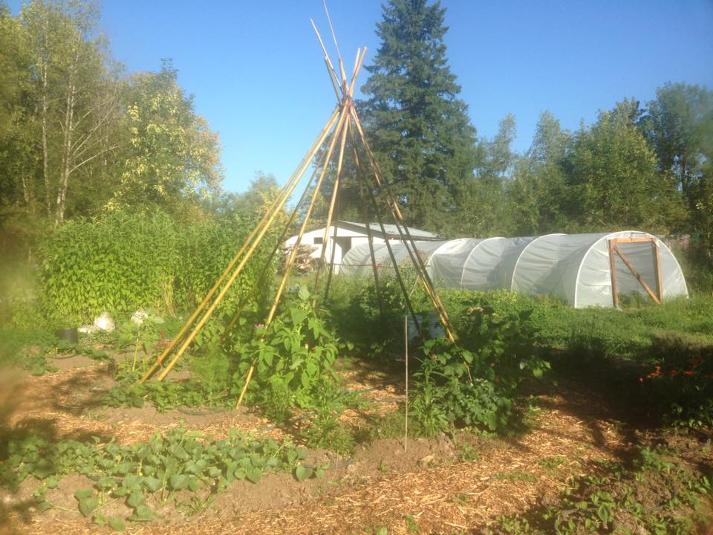 Spring & Summer Shares available now for 2018! Friday Night Markets in Chehalis have begun! See us there (4-7pm) until your weekly shares begin in mid-June! Keep an eye on your email for our season-opening newsletter, and be sure to confirm your pick up location.
Our farm shares are available weekly from May/June through October and feature veggies, herbs, fruits, and even seasonal plant starts! We aim to provide you a "grocery box," instead of the conventional produce share. Coffee Creek is a homestead as well as a working farm, and we are inviting your family to partake in all of the goodness that this land and our stewardship has to offer. An additional box is available in November, on the Monday before Thanksgiving, featuring many of the trimmings for your family's harvest festivities and an optional fresh, pasture-raised turkey. There are 23 boxes per share this season.
The human and animal relationships at Coffee Creek, and the wonderful foods they provide us make life on the farm ever more exciting, enjoyable, and nutritious. We love watching the "chicken show" every bit as much as we love eating fresh eggs for breakfast, so we provide our feathered friends with the highest quality of life and all the love that we have to offer. We respect our animals and do our best to nurture their natural instincts and intuitions. All of our chickens, ducks, peafowl, and turkeys have open access to a large pasture, certified non-gmo, organic and locally-milled feed, fresh water, clean and spacious shelter, and , of course, our companionship. For these provisions, we are able to share rich eggs and tender, tasty meats.

Eggs will be available to purchase when you pick up your boxes throughout the season. Please contact us about being on the "Egg List" to receive text message alerts when fresh, free-range, GMO-free eggs are "on the move" and available to be dropped off at your business or neighborhood!
A deposit will ensure that you receive one of our utterly delicious turkeys with your Thanksgiving box. This year we are raising Broad-breasted Bronze and an assortment of heritage breeds. Once the hanging weight of each bird is determined, they will be priced per pound, with the deposit subtracted from the total purchase price. Bronze turkeys are $6.5 per pound, and have ranged from 15 to 25 pounds in seasons past. Heritage turkeys cost $9 per pound, and are quite a bit smaller, ranging from 6 to 16 pounds. Check in with us about availability of our delicious, pasture raised rabbit and lamb this season!
We currently serve the communities of Lewis, Thurston, and Pierce counties. Please contact us about deliveries to your area.

Detailed information regarding C.S.A. box pick-up, scheduling, and locations; and how to become involved will be provided to all interested parties. Please contact the Coffee Creek Community if you would like to sign up for our C.S.A. or have any questions or comments. An email containing your name, phone/text number, physical and mailing address, and email address may be sent to CoffeeCreekCommunity@gmail.com or you may call the farm at 360.807.4949 or Mokey directly at 360.241.4855 anytime.

There are two box size choices: "Basic" and "Bonus"
Basic Boxes contain 7 to 11 veggie, herb and fruit selections in each box, depending on the time of year and what's in season. This share is great for a moderate produce eating single or couple, or a small family that wants to include more fresh produce in their meals. This is also a great selection for "farmers' market diehards" who want a produce share to supplement their shopping.
Bonus Boxes will contain larger quantities of the basic selections, as well as 3-7 additional varieties. This share is for you veggie lovers, and will expand the selections of fresh produce in your meals and snacks. Great for folx who can't make it to a weekly farmers' market, but want to have fresh, seasonal produce all season long.
Here is an idea of what you may receive in your boxes through the season. Please keep in mind that organic gardening is magical and mysterious! Varieties are subject to change with weather and whimsy:
June: You may find snap peas, kohl rabi, kale, collards, green onions, head and loose leaf lettuces, radishes, garlic scapes, cherries, fresh herbs, a six packs of assorted brassicas start, 4" potted tomato plant, and more. Plant lists are available online, and extra starts can be purchased and delivered with any regular boxes, or you can visit the farm and nursery yourself! Eggs are available!
July: Cabbage, broccoli, edible flowers, kale, collards, head and loose lettuces, shelling peas, beets, carrots, plums, garlic, onions, herbs, as well as some leek or brassica starts for your winter garden. Information about planning and executing a successful fall and winter garden is always available, so don't hesitate to call, email, or visit the farm. All of our prior season's newsletters are archived on the Creekside Gardener page, so be sure to browse them for great recipes and gardening tips!

August: Summer squash, artichokes, greens, green and purple beans, beets, garlic (be sure to check out our selection of garlic braids!), edible flowers, cucumbers, dill, onions, basil, cabbage, berries, peaches, pears.. maybe even some tomatoes (gasp!). This is the beginning of the season of harvest, so unpack your jars and magnetic wand for canning, pickling and preserving! Extra produce may be purchased and delivered with your box for batches of preserves.

September: Potatoes, tomatoes, cucumbers, squash, green beans, berries, apples, lettuces, ground cherries, tomatillos, onions, garlic, herbs for drying and muddling. The best of late summer harvest is happening so Eat, Drink, and be Merry!

October: Cool weather brings a distinct sweetness into our hearty greens and a desire for soups made with root vegetables and squash! You'll find fresh herbs, greens, greenhouse veggies, and storage veggies and fruits in these last boxes of the harvest season.

Optional November Thanksgiving Delivery: This box will be available the Monday before the Thanksgiving holiday and may include potatoes, cranberries, apples, pie pumpkins, foraged wild mushrooms (if available), greens, lettuces, garlic, herbs, and onions to ensure a bountiful meal to be thankful for. Be sure to order eggs ahead of time, as demand will be high with this delivery! If you have purchased a turkey it's ready now, freshly butchered and never frozen, for a tantalizing bouquet of flavor you just cannot find in your grocer's isle. Receiving your bird on Monday gives you plenty of time to brine or marinate before roasting or frying on Thursday. We are offering Broad Breasted Bronze, as well as some heritage birds and younger toms, if your family prefers a smaller bird. Be sure to specify your needs when placing your deposit!

As some of our offerings have optional quantities, our CSA share prices vary. Here is a simple way to figure out the price of your CSA share:
Basic 23: Weekly Box of Produce $575 ($25/box)
Bonus 23: Weekly Box of Produce $920 ($40/box)
Eggs are available for purchase along delivery/pick up: $5/doz on farm $7/doz delivered
Optional Turkey Deposit: $30

Due at time of harvest (November):
Domestic- $6.5 per pound
Heritage- $9 per pound
Turkey available: 25 domestic, 15 heritage. Please call 360.241.4855 to place your deposit today! Please note that deposits are non-refundable and a small additional fee will be added for deliveries.
Delivery Zones

Thank you to those who are able to pick up their shares weekly at Coffee Creek!
There will be a
one-time
surcharge for delivery to other areas:
*Chehalis Farmer's Market, Fridays from 4-7pm $20
*Home or Business Delivery in Centralia or Chehalis $25
*Olympia $30
*Tacoma $40
*Seattle/Portland $50
EXAMPLE: I would like to receive a Basic share and place a deposit on my turkey. I am receiving my deliveries in Tacoma.
The price for my share will be $645 (575+30+40=$645)

Early Share Discount!
Purchase your produce share in full before the 1st of May and you will receive a $15 discount! Your early investments make all the difference in the gardens, as this is the time we purchase seeds, amendments, greenhouse supplies, chicks, feed...the list goes on and on. By purchasing your share as early in the season as possible, you enable us to grow more great food for you and us!
There are currently..
4 Basic/Bonus Shares

29 Turkeys

...Available! Please reach us soon to reserve your share of the goodness!