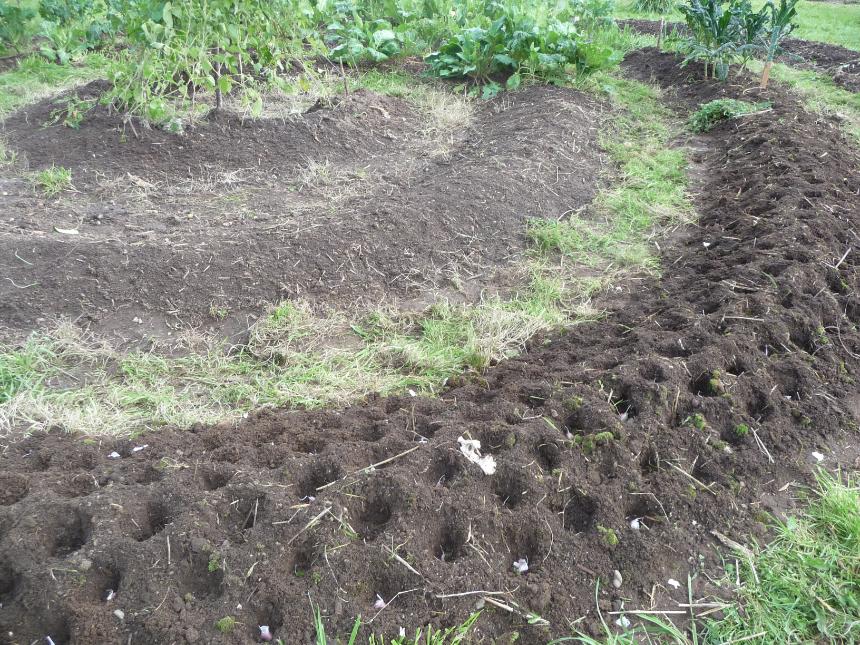 A few shares are still available for the 2013 Season! We now have delivery points in Olympia, Tacoma- south and north, and the Georgetown neighborhood of south Seattle. Please read on to find out about our delicious and nutritious offerings, then send your mailing address to CoffeeCreekCommunity@gmail.com to receive our CSA Questionnaire, or call 360.807.4949.

Our produce share is twice a month from May through October featuring veggies, herbs, fruits, seasonal plant starts, eggs, kombucha, preserved goods, and whole chickens. There is one delivery in November, on the Monday before Thanksgiving, featuring many of the trimmings for your family's harvest festivities with an optional fresh, pasture-raised turkey. There are 13 deliveries in total.

We aim to provide a "grocery box," instead of the conventional produce share. Coffee Creek is more of a homestead than a working farm, and we are inviting your family to partake in all of the goodness that this land and our stewardship has to offer. Twice a month you will receive jars of Kombucha and preserves as well as the freshest seasonal vegetables, herbs, fruits, and tips on how to prepare and preserve them.
The Creekside Gardener is an accompanying newsletter complete with gardening tips, recipes, and updates on farm life and projects. Our mission is not only to provide your family with the freshest, most nutritious food we can offer, but to help you understand how you can do it, too! Garden starts and planting tips will be included in boxes at the appropriate planting time, as home gardening is always encouraged.

The human and animal relationships at Coffee Creek, and the wonderful gifts they bestow upon us makes life ever more exciting, enjoyable, and nutritious. We love watching the "chicken show" every bit as much as we love eating eggs for breakfast, so we provide our feathered friends with the highest quality of life and all the love that we have to offer. We respect our animals and do our best to nurture their natural instincts and intuitions. All of our chickens and turkeys have open access to a large pasture, certified non-gmo, organic, Northwest-grown and Washington-milled feed, fresh water, spacious shelter, and our companionship. For these provisions, we are able to share rich eggs and tender, tasty meats. Each shareholder will choose the amount of these that best suites the family: 6, 12, or 18 eggs per delivery. Cornish cross chickens are butchered just before each delivery, and are delivered fresh throughout most of the season (Frozen birds may be delivered as needed toward the end of the season. We reserve the right to deliver extra chickens early on to avoid this, and will always communicate if a delivery will be any different from what you would normally expect.). Families may choose one whole chicken a month, or one whole chicken with each delivery, or four chickens a month. This s a great option to freeze meat for year-round local food planning, as you will receive 24 chickens in total. Extra chickens are available to purchase per pound, if extras are desired.

A deposit will ensure that you receive one of our well-loved and utterly delicious turkeys with your Thanksgiving box. This year we are raising Broad-breasted Bronze and an assortment of heritage breeds. Once the hanging weight of each bird is determined, they will be priced per pound, with the deposit subtracted from the total purchase price. Bronze turkeys are $6 per pound, and have ranged from 15 to 25 pounds in seasons past. Heritage turkeys cost $9 per pound, and are smaller than the Bronze.

We currently serve the communities of Lewis, Thurston, and Pierce counties. Seattle deliveries may also be available. Please contact us if you are interested in becoming involved in our CSA, but are not sure if we make deliveries to your area.

Detailed information regarding C.S.A. box pick-up, scheduling, and locations; and how to become involved will be provided to all interested parties. Please contact the Coffee Creek Community if you would like to sign up for our C.S.A. or have any questions or comments. An email containing your name, phone number, physical and mailing address, and email address may be sent to CoffeeCreekCommunity@gmail.com or you may call us at 360.807.4949 anytime. Please be sure to include your mailing address, as a questionnaire may be sent.


Here is an idea of what you may receive in your boxes this season. Please keep in mind that organic gardening is magical and mysterious! There will be between 3 and 7 produce selections in each box, depending on the time of year, and varieties are subject to change with weather and whimsy:

May: Bundles of kale and green onions, snap peas, radishes, loose leaf lettuces, spinach, fresh and dried herbs. One six pack of assorted brassicas starts, 4" potted tomato plant, jar of preserves or kraut, one jar of kombucha, and eggs. NOTE: CHICKENS MAY NOT BE AVAILABLE UNTIL JUNE. Plant lists will always be available online, and extra starts can be purchased and delivered with any regular boxes! Of course you can bring your family to the farm for the the full nursery experience at any time.

June: Snap and shelling peas, kohl rabi, bundles of kale, collards, green onions, head and loose leaf lettuces, garlic scapes, cherries, herbs and carrots. Eggs and chicken, as well as a preserved or fermented goody and kombucha. A summer squash start and a cucumber plant will be ready to transplant into your garden!

July: Cabbage, edible flowers, greens, lettuces, shelling peas, green beans, beets, carrots, apricots, plums, garlic, onions, herbs, eggs, and chicken. One canned delight and a bottle of kombucha, as well as some starts for your fall and winter garden. Information about planning and executing a successful fall and winter garden will be included in The Creekside Gardener. All of last season's newsletters are still posted, so be sure to browse the archives for great recipes and gardening tips!

August: Summer squash, artichokes, lettuces, greens, green and purple beans, beets, garlic, dill, edible flowers, cucumbers, onions, basil, cabbage, berries, peaches, pears, maybe even some tomatoes (gasp!), as well as a gleaming jar of preserves, a bottle of kombucha, eggs, and chicken. This is the beginning of the season of harvest, so unpack your jars and magnetic wand, there will be canning, pickling and preserving tips and recipes in the Creekside Gardener! Extra produce may be purchased and delivered with your box for big batches of preserves.

September: Potatoes, tomatoes, cucumbers, squash, green beans, berries, apples, lettuces, ground cherries, tomatillos, onions, garlic, eggs, chicken, preserves, and kombucha.

October: All of the goodness you have come to expect with the addition of more root vegetables and pumpkins! Preserves, kombucha, eggs and chickens will accompany a wide variety of veggies and fruits in the last two regularly scheduled deliveries.

November Thanksgiving Delivery: This box will be delivered the Monday before the Thanksgiving holiday and may include potatoes, cranberries, apples, a pie pumpkin, foraged wild mushrooms (if available), greens, lettuces, garlic, herbs, onions, and eggs to ensure a bountiful meal to be thankful for! If you have purchased a turkey, it will also be delivered, freshly butchered and never frozen, bringing you a tantalizing bouquet of flavor you just cannot find in your grocer's isle. Receiving your bird on Monday gives you plenty of time to brine or marinate before roasting or frying on Thursday. We plan to offer Broad Breasted Bronze, that have reached 25 pounds of hanging weight in past years, as well as some heritage breads and younger toms, if your family prefers a smaller bird. Be sure to specify your needs when placing your deposit!

As some of our offerings have optional quantities, our CSA share prices vary.
Here is a simple way to figure out the price of your CSA share:


Produce/Preserves Price: $325


Choose the amount of Eggs for each delivery:
*half-dozen: $39
*dozen: $78
Chicken:
(Note: chickens will vary in size, as they are living, breathing beings that are free-ranged. By purchasing a share, you are receiving a piece price of $19 per bird instead buying by the pound ($5/lbs.) Your investment in our flock entitles you to the best price on consciously and ethically raised meat around!)
*one chicken per month: $114
*one chicken per delivery (two whole chickens per month): $228
*four chickens each month (usually two whole chickens with each delivery)
Optional Turkey Deposit: $30


Delivery Zones

Thank you to those who are able to pick up their shares at Coffee Creek! There will be a one-time delivery surcharge for delivery zones in Southwest Washington and the Puget Sound area.
*Chehalis and Olympia $5
*Tacoma $10
*Seattle $20

EXAMPLE: I would like to receive a produce share with one dozen eggs and one chicken with EACH delivery, and to put a deposit on my turkey. I am receiving my deliveries in Tacoma. The price for my share will be $671 (325+78+228+30+10=671)

Early Share Discount!
Purchase your share in full before the end of March and you will receive a $15 discount! Your early investments make all the difference in the gardens, as this is the time we purchase seeds, amendments, greenhouse supplies, chicks, feed...the list goes on and on. By purchasing your share as early in the season as possible, you enable us to grow more great food for you and us!
There are currently:
2 Produce Shares (twice a month)
0 Egg shares
20 Chickens per month
18 Turkeys (once only - November)
available for each of our deliveries. Please reach us soon to reserve your share of the goodness!